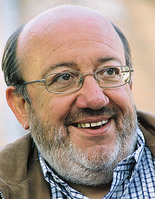 Louis Michel (1947) was van november 2004 tot juli 2009 lid van de Europese Commissie, belast met ontwikkelingssamenwerking en humanitaire hulp. In 2004 maakte hij korte tijd deel uit van de Commissie-Prodi. Daarvoor was hij onder meer leraar en burgemeester van Jodoigne, Kamerlid en senator, en minister van Buitenlandse Zaken en vicepremier. Michel is lid van Waalse liberale partij. Sinds 2009 is hij lid van het Europees Parlement.
in de periode 2004-2009: lid EP (niet-Nederlandse), lid Europese Commissie
Inhoudsopgave
land
België

geboorteplaats en -datum
Tirlemont (België), 2 september 1947 partij

-

PLR (Parti Liberal de la Réforme) (liberaal)

-

MR (Mouvement Réformateur) (liberaal)
hoofdfuncties/beroepen
-

leraar Nederlandse, Engelse en Duitse literatuur aan de provinciale "Ecole Normale" van Jodoigne, van 1968 tot 1978

-

lid gemeenteraad en schepen van Jodoigne (Geldenaken), van 1977 tot 1982

-

lid Kamer van Volksvertegenwoordigers, van 1978 tot 1999

-

lid Waalse Gewestraad, van 1980 tot 1995

-

lid Raad van de Franse Gemeenschap, van 1980 tot 1995

-

burgemeester van Jodoigne (Geldenaken), vanaf 1983

-

lid Senaat, van 13 juni 1999 tot 12 juli 1999

-

minister van Buitenlandse Zaken en van Institutionele Hervormingen, vice-eerste minister, van 12 juli 1999 tot 20 juli 2004 (kabinet-Verhofstadt)

-

lid Europese Commissie, belast met ontwikkelingssamenwerking en humanitaire hulp, van 13 september 2004 tot 14 juli 2009 (Commissies-Prodi en -Barroso I)

-

lid Europees Parlement, vanaf 14 juli 2009
ambtstitel
-

minister van staat, vanaf 30 januari 1995
overzicht
-

voorzitter PRL (liberale partij), van 1982 tot 1989

-

fractievoorzitter PRL Kamer van Afgevaardigden, van 1992 tot 1995

-

voorzitter PRL (liberale partij), van 1995 tot 1999

-

vicevoorzitter Liberale internationale
vorige
-

lid Cultuurrraad, Franse Cultuurgemeenschap, van 1978 tot 1990

-

lid Intergouvernementele en Interparlementaire Conferentie voor de Institutionele Vernieuwing, van 1999 tot 2003
academische studie
-

Duitse taal- en letterkunde, tot 1968
op het gebied van de EU
-

Reserveerde in december 2004 20 miljoen euro voor het EU-Actieplan tegen illegale houtkap en handel in tropisch hardhout

-

Lanceerde in april 2005 een nieuw actieplan voor Europese steun aan de bestrijding van HIV/Aids, malaria en tuberculose, reserveerde in augustus 2005 een extra storting van 58 miljoen euro in het Wereldwijde Fonds voor de strijd tegen deze ziektes (totale EU-bijdrage sinds 2002 is 432,5 miljoen euro). Presenteerde in december 2005 een strategie om het tekort aan artsen en ziekenhuispersoneel in Afrikaanse landen getroffen door Aids, malaria en tbc aan te pakken

-

Gaf in april 2005 het startsein voor de EU-politiemissie EUPOL in de Congolese hoofdstad Kinshasa

-

Kon na succesvolle onderhandelingen in februari 2005, in juni 2005 de herziening aankondigen van het Cotonou-akkoord tussen de EU en 77 landen uit Afrika, het Caraïbische gebied en eilanden in de Stille Oceaan; naast handelsafspraken en programma's voor armoedebestrijding bevat het nieuwe akkoord bepalingen over een versterkte politieke dialoog, afspraken over terrorismebestrijding en bestrijding van handel in massavernietigingswapens, en deelname aan het Internationale Strafhof (ICC).

-

Presenteerde in juli 2005 een nieuwe aanpak voor de Europese ontwikkelingshulp waarin hij pleit voor meer harmonisatie tussen lidstaten en Europese Commissie; constateerde onder meer dat 10 tot 15 procent van het jaarlijkse ontwikkelingsbudget van 45 miljard euro wordt besteed aan administratieve rompslomp die gepaard gaat met de vele verschillende programma's en financieringseisen; nam in maart 2006 maatregelen om externe Europese hulp en ontwikkelingshulp beter en sneller te besteden ("Aid Effectiveness Package")

-

Lanceerde in oktober 2005 een Europese Strategie voor Afrika 2005-2015, thema's zijn vrede en veiligheid; goed bestuur; handel; infrastructuur; sociale cohesie; en duurzaamheid

-

Presenteerde in november 2005 een pakket maatregelen voor de aanpak van migratiestromen, zoals instelling van surveillance-systemen (onder meer kustpatrouilles op de Middellandse Zee), nauwere samenwerking met oorspronglanden in Afrika, en hulp aan Noord-Afrikaanse landen voor het opzetten van opvangkampen

-

Presenteerde in januari 2006 de programmering van het tiende Europese Ontwikkelingsfonds (EDF), dat Europese ontwikkelingsgelden van 22,6 miljard euro toekent aan specifieke doelen voor de periode 2008-2013; speerpunten bij toekenning zijn 'good governance', goed beheer van publieke gelden en een efficiënt bestuur

-

Presenteerde in februari 2006 een strategie voor biobrandstoffen op basis van landbouwproducten in zowel de EU als in ontwikkelingslanden

-

Presenteerde in maart 2006 plannen voor een hernieuwde strategische relatie tussen de EU en de Caraïben

-

Presenteerde in augustus 2006 plannen om goed bestuur in ontwikkelingslanden te stimuleren (governance) en riep EU-lidstaten op om hun beleid op dit punt te harmoniseren; reserveerde hiervoor drie miljard euro uit het tiende Europese Ontwikkelingsfonds (EDF) voor de periode 2008-2013

-

Presenteerde in oktober 2006 een "EU Partnerschap voor vrede, veiligheid en ontwikkeling in de Hoorn van Afrika", ter bestrijding van de (politieke en sociale) crises binnen en tussen Ethiopië, Eritrea, Somalië, Sudan en Noord-Oeganda
onderscheidingen (EU)
doctor honoris causa aan de universiteit van Antananarivo (Madagascar), juli 2005 huwelijk/samenlevingsvorm
gehuwd

kinderen
2 kinderen

Op bovenstaande tekst en gegevens zijn auteursrechten van PDC van toepassing; overname, in welke vorm dan ook, is zonder expliciete goedkeuring niet toegestaan. Ook de afbeeldingen zijn niet rechtenvrij.

De biografieën betreffen vooral de periode waarin iemand politiek en bestuurlijk actief is of was. PDC ontvangt graag gemotiveerde aanvullingen of correcties.