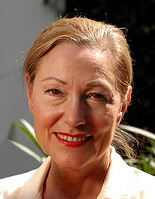 Benita Ferrero-Waldner (1948) was van november 2004 tot december 2009 lid van de Europese Commissie, belast met buitenlandse zaken. Daarna was zij, na het aantreden van Catharine Ashton als Hoge Vertegenwoordiger voor het Gemeenschappelijke Buitenlands en Veiligheidsbeleid, enige maanden belast met handel. Voor zij lid werd van de Europese Commissie vervulde zij diplomatieke functies en was zij staatssecretaris en minister van Buitenlandse Zaken van Oostenrijk. Mevrouw Ferrero-Waldner is lid van de Oostenrijkse christendemocratische partij.
in de periode 2004-2010: lid Europese Commissie
Inhoudsopgave
land
Oostenrijk

geboorteplaats en -datum
Salzburg (Oostenrijk), 5 september 1948 partij
÷VP (÷stereichische Volkspartei, Oostenrijkse Volkspartij) (christendemocratisch) hoofdfuncties/beroepen

-

directeur voor exportpromotie bij "Gerns en Gahler" te Freilassing (Duitsland), tot 1978

-

sales director bij "P. Kaufman Inc. New York" voor Europa, van 1978 tot 1981

-

diverse functies bij het ministerie van Buitenlandse Zaken, van september 1984 tot januari 1986

-

eerste secretaris, ambassade te Dakar (Senegal), 1986

-

adviseur voor economische zaken, en later vicechef de mission bij de ambassade in Frankrijk (Parijs), van 1986 tot 1993

-

staatssecretaris voor Buitenlandse Zaken, van 4 mei 1995 tot 4 februari 2000 (kabinetten-Vranitzky IV en V en -Klima)

-

minister van Buitenlandse Zaken, van 4 februari 2000 tot 20 oktober 2004 (kabinetten-SchŁssel I en II)

-

lid Europese Commissie, belast met externe betrekkingen, van 22 november 2004 tot 1 december 2009 (Commissie-Barroso I)

-

lid Europese Commissie, belast met handel, van 1 december 2009 tot 10 februari 2010 (Commissie-Barroso I)
academische studie
-

rechten, Universiteit van Salzburg, van 1966 tot 1970
op het gebied van de EU
-

Lanceerde in december 2004 een strategie 2005-2007 voor het opruimen van landmijnen (met name in AziŽ en Afrika), reserveerde hiervoor een budget van 140 miljoen euro (sinds 1997 besteedde de EU 700 miljoen euro aan het opruimen van landmijnen)

-

Startte van december 2004 tot februari 2005 diverse actieplannen in het kader van het Europese nabuurschapsbeleid

-

Speelde een actieve rol in het onderhandelingsproces dat in maart 2005 leidde tot het tekenen van "ENB"-verdragen (Europees Nabuurschapbeleid) tussen de EU en ArmeniŽ, Azerbeidzjan, Egypte, GeorgiŽ en Libanon

-

Lanceerde in april 2005 een programma om de samenwerking te verdiepen met landen rond de Middellandse Zee (Barcelona Proces)

-

Vertegenwoordigde de EU in september 2005 op de Millennium-top van de Verenigde Naties

-

Maakte in september 2005 bekend dat de Europese Unie 280 miljoen euro reserveert voor hulp aan de Palestijnse gebieden in 2005, stelde in oktober 2005 een EU-strategie voor hulp aan de Palestijnen vast

-

Presenteerde in november 2005 een pakket maatregelen voor de aanpak van migratiestromen, zoals instelling van surveillance-systemen (onder meer kustpatrouilles op de Middellandse Zee), nauwere samenwerking met oorspronglanden in Afrika, en hulp aan Noord-Afrikaanse landen voor het opzetten van opvangkampen

-

Presenteerde in december 2005 een nieuw buitenlands EU-beleid voor Latijns Amerika. Het nieuwe beleid behelst onder meer het opzetten van een netwerk van associatie- en vrijhandelsverdragen, het intensiveren van de bestaande verdragen met Chili en Mexico, en een nauwere dialoog op milieugebied en drugs- en corruptiebestrijding.

-

Reserveerde in februari 2006 120 miljoen euro aan noodhulp aan de Palestijns Autoriteit voor elektriciteit, de VN-hulporganisatie UNRWA en de betaling van ambtenarensalarissen; de EU-steun kreeg politieke lading door de recente overwinning van Hamas tijdens de verkiezingen van januari 2006; reserveerde in mei 2006 105 miljoen noodhulp extra in het kader van het "Tijdelijke Internationale Mechanisme" voor Palestina, na IsraŽlische bombardementen werden met EU-gelden vanaf juli 2006 onder meer de elektriciteitsvoorziening in ziekenhuizen, en 109 watercentrales en 27 afvalverwerkingsinstallaties hersteld.

-

Presenteerde in maart 2006 een tienpuntenplan om de dialoog met de islamitische landen te verbeteren na de commotie over de Deense Mohammed-cartoons

-

Presenteerde in juni 2006 plannen om de rol van de Europese Unie op het wereldtoneel te vergroten ("Europe in the world: some practical proposals for greater coherence, effectiveness and visibility"); de plannen behelzen een betere coŲrdinatie tussen de diplomatieke diensten van de Europese Commissie en de lidstaten, een betere samenwerking tussen de Europese Commissie en de Raad, en een betere strategische planning

-

Lanceerde in september 2006 plannen om onderhandelingen met OekraÔne te starten voor instelling van een vrijhandelszone

-

Presenteerde in oktober 2006 een nieuwe Europese strategie voor een nauwer strategisch partnerschap met China, na het besluit van de EU-China Raad in september 2006 te starten met onderhandelingen voor een 'Partnership and Co-operation Agreement (PCA)'

-

Nam in november 2006 namens de EU het voorzitterschap over van het Kimberley Process Certification Scheme (KPCS) om de handel en mijnbouw van 'vuile' ruwe diamanten tegen te gaan (b.v. diamanten uit oorlogsgebieden of door kinderarbeid verkregen)

-

Startte in november 2006 een openbare raadpleging (Groenboek) over consulaire en diplomatieke bescherming voor Europeanen in het buitenland (m.n. dat burgers van EU-lidstaten om bescherming en dienstverlening kunnen vragen bij het consulaat of ambassade van een andere EU-lidstaat)

-

Presenteerde in december 2006 een strategie voor het Europees nabuurschapsbeleid voor de periode 2007-2013, waarvoor de Europese begroting 12 miljard euro reserveert ter bevordering van vrede en stabiliteit in landen rond de Middellandse Zee en de Kaukasus; het geld gaat onder meer naar de oprichting van een investeringsfonds met een startkapitaal van 700 miljoen euro en betere visumprocedures voor bezoekers

-

Lanceerde in december 2006 het "Erasmus Mundus Externe Samenwerkingsvenster", waarmee 1300 beurzen worden uitgereikt aan studenten uit het Middellands Zeegebied, Rusland, Centraal-AziŽ, Iran, Irak en Jemen om te studeren aan een Europese universiteit

-

Presenteerde in januari 2007 richtlijnen voor het oprichten van een transportmarkt tussen de EU en de EU-buurlanden, mede door prioriteit te geven aan de verbetering van transport-assen (snellere reistijden, stroomlijning van douane-procedures, minder administratieve rompslomp)

-

Vertegenwoordigde in maart 2009 de Europese Unie op de internationale conferentie in Den Haag over Afghanistan

-

Had een belangrijk aandeel in de oprichting, in mei 2009, van het Oostelijk Partnerschap, een samenwerkingsverband van de Europese Unie met ArmeniŽ, Azerbeidzjan, GeorgiŽ, MoldaviŽ, OekraÔne en Wit-Rusland op het gebied van handel en personenverkeer
huwelijk/samenlevingsvorm
gehuwd

Op bovenstaande tekst en gegevens zijn auteursrechten van PDC van toepassing; overname, in welke vorm dan ook, is zonder expliciete goedkeuring niet toegestaan. Ook de afbeeldingen zijn niet rechtenvrij.

De biografieŽn betreffen vooral de periode waarin iemand politiek en bestuurlijk actief is of was. PDC ontvangt graag gemotiveerde aanvullingen of correcties.