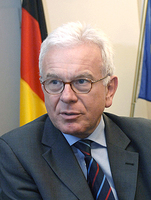 De Duitse christendemocraat Hans-Gert Pöttering (1944) was van janauri 2007 tot juli 2009 voorzitter van het Europees Parlement. Met zijn ononderbroken lidmaatschap van het Europees Parlement sinds 1979 is hij een veteraan in de Europese politiek. Vanaf juli 1994 leidt hij de Europese Volkspartij, waar namens Nederland het CDA vertegenwoordigd is.
in de periode 2007-2009: lid EP (niet-Nederlandse), voorzitter Europees Parlement
Inhoudsopgave
land
Duitsland

geboorteplaats en -datum
Bersenbrück (Niedersachsen), 28 april 1944 partij
CDU (Christlich Demokratische Union) hoofdfuncties/beroepen

-

wetenschappelijk medewerker, van 1976 tot 1979

-

lid Europees Parlement, van 17 juli 1979 tot 30 juni 2014

-

voorzitter Europees Parlement, van januari 2007 tot 14 juli 2009
overzicht
-

voorzitter CDU, afdeling Osnabrück-Land, vanaf juli 1990

-

lid CDU-presidium en federaal beleidscomité van de CDU

-

vicefractievoorzitter Europese Volkspartij (Europees Parlement)

-

fractievoorzitter Europese Volkspartij (Europees Parlement)
vorige
-

docent Universiteit van Osnabrück
academische studie
-

rechten, politiek en geschiedenis, Universiteiten van Bonn en Genève en het aldaar gevestigde Institut des Hautes Etudes Internationales, van 1968 tot 1973

-

studie, Columbia University, New York, 1971
eredoctoraten
-

honorair-professor, 1995
algemeen
-

Was bij zijn verkiezing tot voorzitter één van de zes leden die sinds 1979 zitting hebben in het Europees Parlement

hobby's
zwemmen, kaartspelen, skiën, lezen lijst van publicaties
diverse boeken over Europa huwelijk/samenlevingsvorm
gehuwd

kinderen
2 zonen

Op bovenstaande tekst en gegevens zijn auteursrechten van PDC van toepassing; overname, in welke vorm dan ook, is zonder expliciete goedkeuring niet toegestaan. Ook de afbeeldingen zijn niet rechtenvrij.

De biografieën betreffen vooral de periode waarin iemand politiek en bestuurlijk actief is of was. PDC ontvangt graag gemotiveerde aanvullingen of correcties.