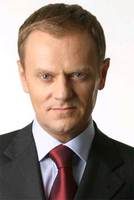 Donald Tusk (1957) was van 1 december 2014 tot 1 december 2019 de vaste voorzitter van de Europese Raad. In november 2007-september 2014 was hij minister-president van Polen. Tusk was medeoprichter en leider van het conservatief-liberale (maar bij de christendemocratische Europese Volkspartij aangesloten) Burgerplatformum. Hij leidde als premier een coalitie van zijn partij en de Poolse Boerenpartij (PSL). Eerder was hij lid van het Lagerhuis en van de Senaat.
in de periode 2007-2019: vaste voorzitter Europese Raad, regeringsleider/staatshoofd EU-land
Inhoudsopgave
land
Polen

geboorteplaats en -datum
Gdansk, 22 april 1957 partij

-

KLD (Kongres Liberalno-Demokratyczny, Liberaal-Democratisch Congres), van 1991 tot 1994 (liberale partij)

-

UW (Unia Wolnosci, Vrijheidsunie), van 1994 tot 2000 (liberale partij)

-

PO (Platforma Obywatelska, Burgerplatforum) (conservatief-liberale partij)
hoofdfuncties/beroepen
-

voorzitter KLD, van 1991 tot april 1994

-

lid Lagerhuis (Sejm), van 1991 tot 1993

-

vicevoorzitter UW, van april 1994 tot 2000

-

lid Senaat, van oktober 1997 tot oktober 2001

-

voorzitter PO, vanaf 1 juni 2003

-

lid Lagerhuis (Sejm), vanaf november 2007

-

minister-president van Polen en voorzitter van het comitť voor Europese integratie, van 24 november 2007 tot 22 september 2014

-

vaste voorzitter van de Europese Raad, van 1 december 2014 tot 1 december 2019
academische studie
-

geschiedenis (MA), Universiteit van Gdansk, tot 1980
eredoctoraten
-

eredoctoraat, Technische Universiteit van Dortmund, 16 december 2018
op het gebied van de EU
-

Tijdens de Europese Raad van 9 maart 2017 herkozen als vaste voorzitter van de Europese Raad. Polen stemde als enige land tegen zijn herbenoeming.
algemeen
-

Zijn vader was timmerman

-

Was als student actief in de oppositiebeweging tegen het communistische regime en behoorde tot de oprichters en leiders van een onafhankelijke Poolse studentenorganisatie

-

Richtte in januari 2001 met Olechowski en Plaznynski het Burgerplatforum op

-

In 2005 verloor hij de Poolse presidentsverkiezingen van Lech Kaczynski. Hij kreeg bijna 46 procent van de stemmen.

-

Kreeg bij de verkiezingen van 2007 ruim een half miljoen voorkeurstemmen
Op bovenstaande tekst en gegevens zijn auteursrechten van PDC van toepassing; overname, in welke vorm dan ook, is zonder expliciete goedkeuring niet toegestaan. Ook de afbeeldingen zijn niet rechtenvrij.
De biografieŽn betreffen vooral de periode waarin iemand politiek en bestuurlijk actief is of was. PDC ontvangt graag gemotiveerde aanvullingen of correcties.