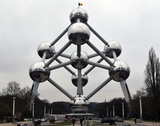 © Kevin Bergenhenegouwen
Belgium and the European Commission will host the 12th Annual EU-NGO Forum on Human Rights in Brussels. It will be centred on the topic, "EU Human Rights instruments and the Lisbon Treaty: State of play and way forward".
Four specific topics have been chosen to illustrate in a concrete manner the general theme of the Forum in workshops:
-The EU Human Rights instruments in the fight against the death penalty;
-The role of the EU in the promotion and protection of economic, social and cultural rights;
-The EU's relation with regional human rights mechanisms, including the Council of Europe, the OSCE, the African Union, the ASEAN or the OAS;
-The consistency between the EU's internal and external Human Rights policies in the context of the Lisbon Treaty.
The EU-NGO Forums are organised annually, and usually bring together around 150 delegates, mainly from non-governmental organisations (NGOs) from all over the world, international experts and representatives of EU institutions and member states.
The purpose of the EU-NGO forum is to provide opportunities for civil society representatives from the global South to meet and exchange experiences with EU representatives and human rights experts.
---
Deze instelling van de Europese Unie kan worden beschouwd als het 'dagelijks bestuur' van de EU. De leden van de Europese Commissie worden 'Eurocommissarissen i' genoemd. Elke Eurocommissaris is verantwoordelijk voor één of meerdere beleidsgebieden. Momenteel zijn er 27 Eurocommissarissen, voor elke lidstaat één. Samen vormen zij het college van Eurocommissarissen. De Eurocommissarissen moeten het belang van de Europese Unie als geheel behartigen, niet dat van hun eigen land.
De Europese Commissie mag als enige EU-instelling wetsvoorstellen indienen; zij heeft het zogenaamde recht van initatief. Daarnaast controleert de Commissie of de Europese wetgeving juist wordt toegepast in de lidstaten, onderhandelt zij in internationale organisaties als de Wereldhandelsorganisatie (WTO) i over de handel van de Unie met het 'buitenland' en is zij verantwoordelijk voor het beheer van de Europese begroting van ongeveer 140 miljard euro per jaar.