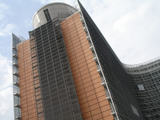 The objectives of the third international conference on space exploration are:
-

to continue the work done with the first and second international space exploration conferences, by elaborating further the views of the participants regarding the "exploration pillars" - namely robotic exploration, enabling technologies, space transportation, Low Earth Orbits (LEO) infrastructures and space stations
-

to share views on the proposed goals and working principles of the platform, adopting them and providing inputs for the way ahead.
Antonio Tajani, Vice-President of the European Commission/Commissioner responsible for Industry and Entrepreneurship, will participate.
The deadline for registration is 1 November.
The background:
The idea of a high-level platform has been discussed by two dedicated European high-level conferences at ministerial level (the space exploration conference held in Prague on 23 October 2009 and the second international conference on space exploration in Brussels on 21 October 2010) where all main international countries involved in space exploration were invited.
The two space exploration conferences have laid the ground for the establishment of an enlarged, international mechanism of coordination and cooperation. The participants of the Brussels conference identified the need for policy discussions at international level and concluded that "A dedicated international high-level space exploration platform should be established. Complementing existing technical fora, it should promote strategic guidance and international cooperation".
Person In Charge
ESA Conference Bureau (Logistics)
Related Links
---
Contents
Deze instelling van de Europese Unie kan worden beschouwd als het 'dagelijks bestuur' van de EU. De leden van de Europese Commissie worden 'Eurocommissarissen i' genoemd. Elke Eurocommissaris is verantwoordelijk voor één of meerdere beleidsgebieden. Momenteel zijn er 28 Eurocommissarissen, voor elke lidstaat één. Samen vormen zij het college van Eurocommissarissen. De Eurocommissarissen moeten het belang van de Europese Unie als geheel behartigen, niet dat van hun eigen land.
De Europese Commissie mag als enige EU-instelling wetsvoorstellen indienen; zij heeft het zogenaamde recht van initatief. Daarnaast controleert de Commissie of de Europese wetgeving juist wordt toegepast in de lidstaten, onderhandelt zij in internationale organisaties als de Wereldhandelsorganisatie (WTO) i over de handel van de Unie met het 'buitenland' en is zij verantwoordelijk voor het beheer van de Europese begroting van ongeveer 140 miljard euro per jaar.