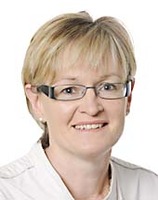 Mairead McGUINNESS (1959) is sinds 20 juli 2004 lid van het Europees Parlement. McGUINNESS maakt namens de "Fine Gael Party" deel uit van de Fractie Europese Volkspartij en komt uit Ierland.
Inhoudsopgave
land
Ierland

geboorteplaats en -datum
Drogheda, 13 juni 1959 lid tussentijds gevormde fractie(s)
Fine Gael Party

fractie Europees Parlement
Fractie van de Europese Volkspartij (christendemocraten) website
http://www.europarl.europa.eu/meps/nl/28115/MAIREAD_MCGUINNESS/home

Op bovenstaande tekst en gegevens zijn auteursrechten van PDC van toepassing; overname, in welke vorm dan ook, is zonder expliciete goedkeuring niet toegestaan. Ook de afbeeldingen zijn niet rechtenvrij.

De biografieŽn betreffen vooral de periode waarin iemand politiek en bestuurlijk actief is of was. PDC ontvangt graag gemotiveerde aanvullingen of correcties.