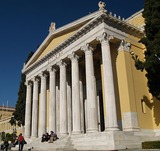 The upcoming ministerial meeting will provide the opportunity to elaborate on the enhancement of the dialogue and the strengthening of the cooperation between the EU and the league of Arab States.
---
Van 1 januari tot en met 30 juni 2014 was Griekenland voor de vijfde keer voorzitter†i van de Raad van de Europese Unie†i. Griekenland nam het stokje over van Litouwen. Tijdens het voorzitterschap werkte Griekenland nauw samen in een trojka†i met Litouwen en Ierland, die vůůr Griekenland het voorzitterschap van de EU bekleedden.
ItaliŽ†i heeft op 1 juli 2014 het voorzitterschap van Griekenland over genomen.