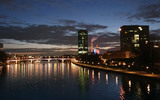 © Anton Bussemaker
datum
24 februari 2015 15:00
plaats
Frankfurt am Main, Duitsland
aanwezigen
M. (Mario) Draghi 

i

e.a.
Board member:
Mario Draghi
Event:
Speech by the President on the occasion of the official unveiling of the new €20 banknote organised by the European Central Bank in Frankfurt, Germany.
Time:
3 p.m. CET
Venue:
Press Centre, European Central Bank, Sonnemannstr. 20, Frankfurt
Contact number:
Eva Taylor, ECB Global Media Relations, Tel: +49 69 1344 7162, e-mail: Eva.Taylor@ecb.europa.eu
Text:
The text will be made available on the ECB's website after delivery.
Last modified: 12 February 2015, 12 PM CET
---