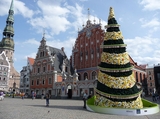 Riga, Latvia
On Wednesday 25 March 2015, the Various Intersts' Group of the EESC will hold an extraordinary meeting in Riga, in the form of a large conference, to mark the Latvian Presidency of the Council of the EU.
Edgars Putra, Parliamentary Secretary of the Ministry of Economics will welcome the participants on behalf of the Latvian Presidency.
The Keynote addresses will be given by Andris Piebalgs, Former EU Commissioner, Advisor to the President of Latvia on: "Economic growth and social progress in Latvia - the influence of the energy sector" and Sergejs Kruks, Professor of Riga Stradina University who will address the issue of "Latvian crisis management: social and communication aspects."
The main objective of the conference will be to examine ways of stimulating economic growth and social progress, in the aftermath of the economic and financial crisis. The event will also explore how the EU can assist in this process and the contribution to be made by civil society in both rural and urban areas. It is expected to attract a wide spectrum of Latvian civil society actors to the event, including farmer and consumer organisations, SMEs, representatives of industry, the Social Partners, as well as charities, family, voluntary and youth associations.
You can inscribe to attend the event here: REGISTER
---
Het Europees Economisch en Sociaal Comité (EESC) werd in 1957 door het Verdrag tot oprichting van de Europese Economische Gemeenschap i opgericht als raadgevend orgaan om de belangen van de verschillende economische en maatschappelijke organisaties in de Europese Unie te vertegenwoordigen. Het EESC wordt voorgezeten door Luca Jahier.