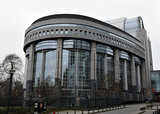 © Kevin Bergenhenegouwen
20-04-2016 - TTIP: Public Procurement - challenges and opportunities for the EU and the US
IMCO INTA 25-04-2016 - 15:12
IMCO held a joint public hearing with INTA on the TTIP: Public Procurement - challenges and opportunities for the EU and the US. The Hearing provided for an exchange of views with experts allowing Members to benefit from their knowledge and share ideas on increasing access to respective public procurement market and ensuring non-discriminatory and transparent procurement procedures.
Location : Paul-Henri Spaak (PHS), Room 3C050
Powerpoint presentations
---
Deze parlementaire commissie i houdt zich onder meer bezig met de regelgeving op het gebied van de interne markt (waaronder het vrije verkeer van goederen en diensten) en met de bescherming van de belangen van consumenten.