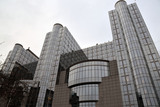 © Kevin Bergenhenegouwen
MEP Belder will be hosting the event "Between Engagement and Hegemony: Iran after the Nuclear Deal" together with MEP Tunne Kelam (EPP) and Petras Austrevicius (ALDE) on June 14th from 13:00 - 14:30 in room ASP 1H1.
The speakers include:
Human Rights in Iran:
Darya Safai, Iranian-Belgian Women's Rights activist
Iran's Regional Ambitions:
Dr. Bruno Tertrais, Senior Research Fellow, Foundation pour la recherche stratégique
Internal Dynamics of Regime:
Mr Mohsen Behzad Karimi, EU correspondent for Kayhan London
Moderator: Daniel Schwammenthal, Director, AJC Transatlantic Institute
If you require access to the European Parliament, please send your full name, date of birth, passport number and nationality by email to elise.coolegem@europarl.europa.eu
---
De fractie van de Europese Conservatieven en Hervormers (ECR) bestaat voor het grootste deel uit leden van de Poolse partij Recht en Rechtvaardigheid i. Ook de Britse Conservatieven i maken onderdeel uit van de fractie. De Nederlandse Forum voor Democratie i en SGP i hebben zich bij deze fractie aangesloten.
Positie