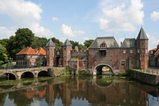 Inhoudsopgave
Amersfoort 17 februari 2017
Politiek café met ECPYouth op 17 februari 2017.
?What to do with right-wing populism in Europe?? This is the topic of the first ECPYouth Political Café, held in Amersfoort in the Netherlands on the 17th of February 2017 and co-hosted by SGP-jongeren and PerspectieF, ChristenUnie-jongeren.
Even though we?re all Christian young people, thís subject is the cause of many disputes. Many of us are not sure what to think about Trump, about right-wing parties, or about populism in general. Is it ok to support them? Is it not? We feel it?s important as Christian youth to speak about these questions, for we will have to deal with them as the future generation. Christians from all over Europe have very different views on the matter and ECPYouth, together with SGPJ and PerspectieF, wants to give you the opportunity to discuss this together.
Speakers
We have invited several speakers to discuss the situation in three different countries: Germany, France and the Netherlands. Tobias Gotthardt (Germany), Denys Dhiver (France) and Stieneke van der Graaf (the Netherlands) will join us in the debate and talk with us about two questions. First, how does right-wing populism manifestate itself in your country? And second, what impression do you have of the views of Christians in your country on how to deal with it?
Tobias is the political advisor of Arne Gericke, a MEP for the Familien-Partei. Denys is former President of ECPYouth and involved in the French Parti Chrétien-Démocrate. Stieneke is Board member of ECPM and candidate MP for ChristenUnie.
Because of the parliamentary elections in the Netherlands in March 2017, we invited two young candidates from SGPJ (SGP) and PerspectieF (ChristenUnie) to cooperate with us. Hans van ?t Land (SGPJ) will provide an opening speech and Anil Kumar (PerspectieF) will lead the discussion between the speakers and the participants.
Who is invited?
Everyone is welcome! It doesn?t matter if you?re not politically affiliated or if you have different political views. The only thing you need to do is register, so we?ll know how many drinks and glasses we need.
Why be there?
Enjoy drinks and laughs with many old and new friends.
Learn something about the state of right-wing populism in Europe.
Learn about differences between Christians around Europe.
Be a part of working towards a better Europe.
Location: Amersfoort, the KAdECafé (Eemplein 77, only a short walk from Amersfoort train station).
Time: 19:30h with coffee and tea.
Costs: drinks are on us (with a limit of course), but you have to register here.
Changes or more information about this event and the speakers will be made public here, so keep an eye on this webpage or our page on Facebook.
Praktische informatie
Het evenement wordt gehouden bij KAdECafé Amersfoort, Eemplein 77 in Amersfoort (Gelderland) op 17 februari 2017 om 19:45.
---
Deze Nederlandse onafhankelijke jongerenorganisatie is gelieerd aan de Staatkundig-Gereformeerde Partij i (SGP). Van 1934 tot 2000 ging de organisatie door het leven als het Landelijk Verband voor Staatkundig-Gereformeerde Studieverenigingen (LVSGS). De SGPJ wil graag als bruggenbouwer tussen de gereformeerde en seculiere wereld dienen. Het ledental van de SGP-Jongeren ligt op ruim 9000. Het hoofdkantoor is gevestigd in Rotterdam.