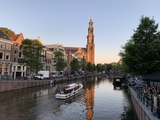 © PDC
SES CONFERENCE 2017: IN EUROPE WE TRUST
How Europe will survive its modern day crises
Every year the SES, Studievereniging Europese Studies (University of Amsterdam) organizes a Conference about a topic related to European Studies. During the Conference there will be speakers from various fields that have knowledge about the topic, who will speak during the plenary session and during the seminars. The seminars will go more into depth with the various topics of the conference, and attendees can sign themselves up to the seminars that they find most interesting. At the end of the day a debate amongst the speakers will take place, and the audience can ask questions to the speakers.
This year we want to look at the modern day crises that Europe is experiencing. Europe has been in the news for several reasons. The rise of populism and the refugee crisis are wildly discussed topics and there is a lot of criticism on Europe. The question we are going to discuss in this conference will therefore be "In Europe We Trust: how Europe will survive its modern day crises." To answer this question, we have chosen four topics to discuss:
-

Extremism and populism in Europe – will the increasing split into far wing positions break the EU?
-

War and memory in the Balkans
-

Russia and its influence over Eastern Europe
-

Open border migration – more force instead of freedom?
During this conference guests can attend two workshops. Every workshop is hosted by various speakers who are specialized in these areas. There will also be plenary sessions where we will discuss the solutions for these crises.
You can registerer here: http://www.ses-uva.nl/conference/ and sign up for two out of four seminars. The price for SES members will be 7,50 and for non-members 10,00 (Lunch included)
---
Contents