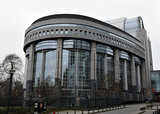 © Kevin Bergenhenegouwen
Energy and climate change are closely interlinked, since energy production - mainly from the transformation and combustion of fossil fuels - and energy use account for 79% of EU greenhouse gas emissions. As a result, effective action on energy production and its use is essential to tackle climate change. On 19 September, the European Court of Auditors published its Landscape Review of EU action on Energy and Climate Change, which will be a key basis for discussion at this event.
Conference speakers will include:
-

Jerzy Buzek, Member of the European Parliament, Chair of the Committee on Industry, Research and Energy;

-

Benedek Jávor, Member of the European Parliament, Vice-chair of the Committee on the Environment, Public Health and Food Safety;

-

Jos Delbeke, Director General, DG Climate Action, European Commission;

-

Carmen Becerril Martínez, Energy Industry Expert, Spain;

-

Hans Bruyninckx, Executive Director, European Environment Agency;

-

Monica Scatasta, Head of Environment, Climate and Social Policy, European Investment Bank;

-

Sabrina Schulz, Head of Berlin Office, E3G;

-

Alar Karis, Auditor General, National Audit Office of Estonia, Chair of EUROSAI Working Group on Environmental Auditing;

-

Mechtild Wörsdörfer, Director Renewables, Research and Innovation, Energy Efficiency, DG Energy, European Commission.
Location: Paul Henri Spaak (PHS) P7C050
Last updated: 03-10-2017
---