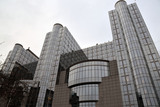 © Kevin Bergenhenegouwen
David Campbell Bannerman MEP and The Euro-Gulf Information Centre (EGIC), cordially invite you to a roundtable discussion on the:
Freedom of Religion in the Kingdom of Bahrain
for an exchange of views with senior Jewish Member of the Bahraini Parliament, Ms Nancy Khedouri.
on Wednesday 6 December at 17:00 - 18:30 in room ASP A1H1
Members, APAs, Group Staff, and external guests are all most welcome. If you wish to RSVP to this event (and if accreditation is required), please email info@egic.info.
Complimentary drinks and snacks will be offered, and translation will be available in: English, French, Italian, and Spanish.
---
De fractie van de Europese Conservatieven en Hervormers (ECR) bestaat voor het grootste deel uit leden van de Poolse partij Recht en Rechtvaardigheid i. Ook de Britse Conservatieven i maken onderdeel uit van de fractie. De Nederlandse Forum voor Democratie i en SGP i hebben zich bij deze fractie aangesloten.
Positie