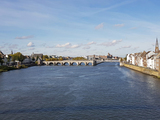 © Kevin Bergenhenegouwen / PDC
Live stream available, please scroll down!
In 2017 the City of Maastricht, the Province of Limburg and Maastricht University commemorate the 25th Anniversary of the Maastricht Treaty by means of a series of events under the heading Europe Calling. The debate on the role of EU agencies in the future Europe takes place within the framework of the Europe Calling programme.
What do EU agencies do? Do EU agencies need to be controlled more or better? Do EU agencies need to be more independent? Are EU agencies sufficiently transparent? Do EU agencies need to be merged? Is the model on which EU agencies are based in terms of expertise still sufficient for the future? Do EU agencies need to be spread geographically all over the EU? Do EU agencies need to connect more to citizens? Can EU agencies bring Europe closer to its citizens? These and many other questions will be discussed during this debate.
REGISTRATION IS CLOSED (no available seats)
Contact:
Maastricht University, Faculty of Law
Elke Hundhausen
Tel: +31 433 883 226
---