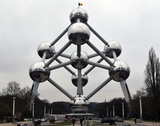 © Kevin Bergenhenegouwen
datum
27 november 2018 15:30 - 19:00
plaats
Brussel, België
aanwezigen
(Neena) Gill 

i

e.a.
organisatie
Friends of Europe
Coinciding with the 40th anniversary of China's opening up, the 5th edition of the Europe-China Policy & Practice Roundtable will be held on 27 November.
The by-invitation-only roundtable will bring together around 30 Chinese and European scholars, think tank representatives, policymakers and business representatives for an open and lively debate on relations between Europe and China. As disruptions continue to shake the international landscape, can the two simultaneously work together to tackle disruptive forces like the Iranian and North Korean nuclear crises, and to ensure that the Belt and Road Initiative (BRI) and other global connectivity projects are in keeping with the Sustainable Development Goals' focus on environmental and fiscal sustainability?
Participants will answer these and other questions as they consider the way forward for Europe-China cooperation in maintaining a rules-based multilateral order and engaging in connectivity projects. Recommendations from this roundtable will be brought into discussion with a wider audience during the 28 November Europe-China Forum. Click here to view the full Forum programme.
Interested in learning more?
"EU-Asia trade - the bright future ahead" by Jean-Luc Demarty
"It's time for a united Europe to stand up to China" by Neena Gill
"The new logic of China's global influence" by Chunrong Liu
"As Drumpf embarks on Asia trip, it's Europe that is really pivoting to Asia" by Shada Islam
---