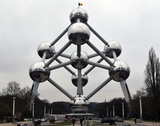 © Kevin Bergenhenegouwen
In 2017, the number of forcibly displaced people globally rose to 68.5 million. By 2050, experts predict a significant rise in the number of environmental migrants worldwide - a number that comes in addition to the refugees, asylum-seekers and internally displaced people that will continue to flee their homes out of a fear of persecution. This early warning creates a unique opportunity for governments, the private sector and civil society to prepare for the changes to come and to seek out opportunities to curb destruction and loss of life.
This debate is part of Friends of Europe's Migration Action programme, which aims to examine the imperative of migration in the context of economic sustainability and demographics, as well as its impact on public services, communities and security. This Policy Insight will allow speakers and participants to contemplate current and future climate change-induced migration trends, with the aim of offering concrete proposals on ways forward.
You may also like:
"Syria shows it's time to take climate migration seriously" by Esther Bijl
"Climate change is a feminist issue" by Linnéa Engström
"Water cooperation can bring peace to conflict zones" by Neena Gill and Sundeep Waslekar
"An inclusive method to Europe's migration flow" by Michael Printzos
IMAGE CREDIT: weerapat/Bigstock
---