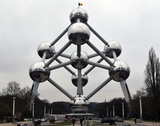 © Kevin Bergenhenegouwen
The European Court of Justice Today and Tomorrow: Do All Roads Lead to Luxembourg? CEPS has invited Allan Rosas, judge at the European Court of Justice, to join us for a discussion on 05 October 2018. He will reflect upon the role of the European Court of Justice as the final arbiter of an ever broader spectrum of issues of considerable political and/or economic importance for the EU.
The discussion with Judge Rosas is the 6th in a new series of events launched by CEPS on the Future of Europe, aimed at helping Europe to grapple with the intense internal pressures as well as complex external dilemmas it faces. Senior politicians and high-level policy-makers are invited to discuss desirable objectives and possible actions across key policy areas.
Registration and Breakfast from 09.30 - Meeting from 10.00 to 11.30
---