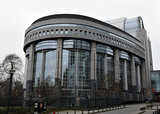 © Kevin Bergenhenegouwen
How can the European message be more effectively conveyed?
This workshop focuses on the use of modern technologies by so-called 'influencers' in order to increase the number of their 'followers'. It will look into how technologies can carry and amplify messages, becoming 'viral', and the type of communication used. The workshop explores the issue of the so called 'eco-chamber effect' in communication within modern societies. Besides the technological aspects, the project also involves social sciences considerations to deal with the psychological aspects of 'viral media communication' and its social impact, with special attention to political influence. The speakers' contributions will be published as an 'event report'.
Programme
09:30-09:45 Welcome and introduction
Eva KAILI, Member of the European Parliament, STOA Chair
09:45-10:45 Panel 1 - Science of Virality
'Analysing text virality in social media'
Giorgos MARKOPOULOS, Associate Professor at Department of Linguistics of School of Philosophy National and Kapodistrian, University of Athens
'Virality on Social Media: Potentials and Pitfalls for Politics'
Michael BOSSETA, Social Media Expert and Podcaster, Political and Data Scientist at the University of Copenhagen
'What drives people to public conversation on-line? - Insight into people's sharing behaviour'
Kristof VARGA, Director, Public Division at Bakamo.Social
Questions & Answers
10:45-11:45 Panel 2 - Practice of Virality
'From theory to practice'
Diarmaid MAC MATHUNA, Communication Expert on Digital campaigns and content strategy, Director at Indiepics
'Gilets jaunes, from social networks to the streets'
Emmanuel RIVIERE , Chairman, Centre Kantar sur le Futur de l'Europe
'Facebook as a tool to convey more effectively your message to the outside world'
Meg CHANG, Public policy Manager at Facebook
Questions & Answers
11:45-12:00 Closing remarks
Paul RUBIG, Member of the European Parliament, STOA 1st Vice-Chair
Moderator: Philippe FELIX, Senior Online Communications Expert at Web-Minded
Location: European Parliament, Brussels - Paul-Henri Spaak Building (PHS) 3-C050
Last updated: 03-04-2019
---