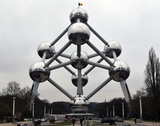 © Kevin Bergenhenegouwen
Page Content
​​Following the European elections in May this year, the new leaders of the EU institutions have been elected or appointed and have announced their strategic agendas for the period 2019-2024. T​his lunchtime debate will provide an opportunity to deepen reflection about the role of regions and cities in the EU in the years to come. The following questions amongst others will be discussed:
-

What is the current "state of the European Union" and what are the lessons learned from 2019 for the EU's institutional setting?

-

How do the agendas of the EU institutions affect regions and cities and vice versa?

-

What are the issues of most concern for regions and cities and how will the European Committee of the Regions and the European Parliament address them?
Mairead McGuinness, MEP, First Vice-President of the European Parliament will welcome the roundtable discussion and Younous OMARJEE, President of the European Parliament's Committee on Regional Development (REGI), will introduce the discussion. Then the audience will debate these questions with Karl-Heinz LAMBERTZ, President of the European Committee of the Regions, and Ulrike GUÉROT, professor at the Danube-University Krems, Austria, author, and founder of the European Democracy Lab in Berlin, with Etienne BASSOT, Director, Members' Research Service, EPRS, as a moderator.
Interpretation will be provided from/into French and English.
Registration is compulsory for participants not holding an EU staff permanent badge. Registration closes on 9 October.
Contact:
Contact Person: Wolfgang Petzold / Martine Lartigue
Organizer: European Committee of the Regions - Library Research service of the European Parliament
---
Contents
Dit orgaan is de spreekbuis voor lokale en regionale overheden binnen de Europese Unie. De Raad van de Europese Unie i en de Europese Commissie i zijn in bepaalde gevallen verplicht advies te vragen aan het Comité van de Regio's (CvdR), voordat zij een besluit kunnen nemen.