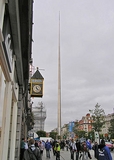 European Foundation for the Improvement of Living and Working Conditions, Other bodies and agencies,
The European Foundation for the improvement of living and working conditions (EUROFOUND) is delighted to organise a seminar on the 'Generation game: social insecurities and inequalities', as part of the Social Inclusion Week.
The seminar will be an opportunityto engage with the local community, to hear about EUROFOUND's work on social inclusion of both the young and older population across Europe, and see how Ireland measures up.
EUROFOUND's recently published reports on 'Inequalities in the access of young people to information and support services' and 'Social insecurities and resilience' will be presented by the authors, providing a space for participants to explore and discuss the issues that young and older populations are facing in the EU.
---
Contents
Dit agentschap i draagt bij aan het Europees sociaal beleid door onderzoek te doen naar de werk- en levensomstandigheden binnen de EU. Eurofound voorziet regeringen, werkgevers, vakbonden en de Europese Commissie i van bevindingen, kennis en advies afkomstig van onafhankelijk en vergelijkend onderzoek.
Door middel van een verordening (COM(2016)531) uit 2016 werd de oude Eurofound-richtlijn uit 1975 herzien. Het doel van de herziening is om de structuur van de organisatie te moderniseren en de regels te updaten. Zo moet de rol van Eurofound worden geconcretiseerd. De verordening trad op 20 februari 2019 in werking.