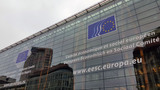 © Kevin Bergenhenegouwen
SOC Section meeting 03.03.2020 - Notice of meeting
SOC
NOTICE OF MEETING
SECTION FOR EMPLOYMENT, SOCIAL AFFAIRS AND CITIZENSHIP
Date

03/03/2020, 9:30-17:30

Venue

EESC

Room

JDE 62

President

Christa Schweng

Meeting No

197

Email

soc@eesc.europa.eu

Document date

24/02/2020

For the attention of section bureau members:

Bureau meeting

03/03/2020, 9:00-9:30
Draft agenda:
-

Adoption of the draft agenda
-

Approval of the minutes of the 196th meeting, held on 28 January 2020
-

Statement by the section president
-

SOC/628 - Demographic challenges in the EU in light of economic and development inequalities

Exploratory opinion HR presidency

EESC-2019-04587-00-00-PA-TRA

Rapporteur: Stéphane Buffetaut

Co-rapporteur: Adam Rogalewski
-

SOC/629 - Sustainable funding for lifelong learning and development of skills

Exploratory opinion HR presidency

EESC-2019-04762-00-00-PA-TRA

Rapporteur: Tatjana Babrauskienė

Co-rapporteur: Pavel Trantina
-

Debate with Ylva Johansson, Commissioner for Home Affairs (11:00-12:00)
-

SOC/630 - The effects of campaign on participation in political decision-making

Exploratory opinion HR presidency

EESC-2019-04412-00-00-PA-TRA

Rapporteur: Marina Škrabalo

Co-rapporteur: Cinzia Del Rio
-

Debate on Reinforcing the Youth Guarantee, including a presentation by Max Uebe, Head of Unit, Youth employment, Entrepreneurship, Microfinance Facility, DG EMPL, European Commission
-

Organisation of section work
-

Date of the next meeting: 7 April 2020

| | |
| --- | --- |
| Interpreting requested from | BG/ES/CS/DA/DE/ET/EL/EN/FR/HR/IT/LV/LT/HU/NL/PL/PT/RO/SK/SL/FI/SV |
| into | ES/CS/DE/EL/EN/FR/IT/HU/NL/PL/PT/RO/SV |

_____________

N.B.: Members and experts are asked to sign the attendance list in order to ensure that their meeting expenses are refunded.

Members unable to attend the meeting are asked to give advance notice to their group secretariat so that interpreters do not attend unnecessarily.

Recorded meeting - see Decision No 206/17A. Privacy statement.

EESC-2019-05899-00-02-CONVPOJ-TRA (EN) 3/3
---
Het Europees Economisch en Sociaal Comité (EESC) werd in 1957 door het Verdrag tot oprichting van de Europese Economische Gemeenschap i opgericht als raadgevend orgaan om de belangen van de verschillende economische en maatschappelijke organisaties in de Europese Unie te vertegenwoordigen. Het EESC wordt voorgezeten door Luca Jahier.