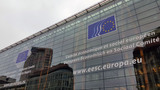 © Kevin Bergenhenegouwen
Invitation for the 197th meeting of the Section for the Single Market, Production and Consumption
EN
INT
NOTICE OF MEETING
SECTION FOR THE SINGLE MARKET, PRODUCTION AND CONSUMPTION
Date

02/03/2020, 14:30-18:00

Venue

Rue Belliard/Belliardstraat 99, 1040 Brussels

Room

JDE62

President

Ariane RODERT

Meeting No

197

Deadline for amendments

26/02/2020, 14:30

Email

int@eesc.europa.eu

Document date

For the attention of section bureau members:

Section bureau meeting

11:00-13:00, room JDE63
Draft agenda:
-

Adoption of the draft agenda
-

INT/893 - European standardisation for 2020

COM(2019) 486 final

INT/893 - EESC-2019-05743-00-00-PA-TRA

Rapporteur: Gerardo Larghi (IT-II)

Co-rapporteur: Elżbieta Szadzińska (PL-III)
-

Discussion on Dual Food Quality and its Economic Impact, with Pavel Ciaian, Team Leader - Scientific Research D.4 - Economics of Agriculture (DG Joint Research Centre).
-

Presentation of the Communication from the Commission to the European Parliament, the Council, the European Economic and Social Committee and the Committee of the Regions - Shaping Europe's digital future [COM(2020) 67 final] by Celina Ramjoué (to be confirmed), Deputy Head of Unit DDG2.F.1 - Digital Policy Development and Coordination (DG CNECT), followed by a discussion.
-

Date of the next section meeting: Thursday 2 April 2020

| | |
| --- | --- |
| Interpreting requested from | BG-ES-CS-DA-DE-ET-EL-EN-FR-HR-IT-LV-LT-HU-MT-NL-PL-PT-RO-SK-SL-FI-SV |
| into | ES-DE-EL-EN-FR-HR-IT-NL-PL-SK |

_____________

N.B.: Members and experts are asked to sign the attendance list in order to ensure that their meeting expenses are refunded.

Members unable to attend the meeting are asked to give advance notice to their group secretariat so that interpreters do not attend unnecessarily.

Recorded meeting - See Decision No 206/17A. Privacy statement.

EESC-2020-00709-00-00-CONVPOJ-TRA (FR) 2/2
---
Het Europees Economisch en Sociaal Comité (EESC) werd in 1957 door het Verdrag tot oprichting van de Europese Economische Gemeenschap i opgericht als raadgevend orgaan om de belangen van de verschillende economische en maatschappelijke organisaties in de Europese Unie te vertegenwoordigen. Het EESC wordt voorgezeten door Luca Jahier.