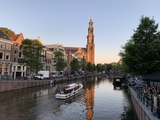 © PDC
The discovery of gas resources in the Eastern Mediterranean has the potential to be a game-changer for the region. During this evening, experts take stock of all recent developments and offer insights on current and future trends and dynamics and their implications for the Eastern Mediterranean.
Energy cooperation as to the recent discovery of gas resources might help resolve political disputes in the Eastern Mediterranean and foster regional cooperation and economic development. At the same time these discoveries are shifting geopolitical alliances. There are emerging Greek-Israel-Cyprus and Greek-Egypt-Cyprus trilateral partnerships as well as a broader regional energy partnership, the East Med Gas Forum that comprises Italy, Greece, Cyprus, Egypt, Israel, Jordan and the Palestinian Authority. But lately there are also renewed tensions around the exploitation of gas resources in the region - between Cyprus and Turkey in particular - which are also affecting EU-Turkish relations. This event sheds light on these recent development and reflects on their future outcomes.
About the speakers
Alexandros Yannis is an EU official currently working in Brussels as Senior Advisor in the Strategic Planning Division of the European External Action Service (EEAS) of the European Union. He has worked with Javier Solana, the first EU High Representative for common foreign and security policy, and he was a Member of the Cabinet of Catherine Ashton, the first EU High Representative and Vice President of the European Commission. He has served as Senior Expert on energy diplomacy in the EEAS in Brussels and he has extensive field experience working with the EU in Somalia and with the UN in Kosovo.
Emre İşeri is currently affiliate of the Department of International Relations, Yaşar University, İzmir. He is also an associate member of the Editorial Board of the Journal of Global Faultlines. Prof. İşeri holds a PhD from Keele University from the International Relations department. He has taught in various universities and he has also been teaching part-time on energy politics at the MA programme in Mediterranean Studies of the University of the Peloponnese. His areas of current research agenda include energy policy, political communication, Euro-Asian politics and Turkish foreign policy.
Dimitris Bouris (moderator) is an Assistant Professor at the Department of Political Science (UvA), the leader and coordinator of the EU-Middle East Jean Monnet Network EUMENIA and co-leader (with Dr. Virginie Mamadouh and Dr. Beste Isleyen) of the EU in the World Theme Group of the Amsterdam Centre for European Studies.
Sign up
You can sign up for this program for free. If you sign up, we count on your presence. If you are unable to attend, please let us know via spui25@uva.nl | T: +31 (0)20 525 8142.
---