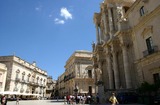 Via Maria Politi Laudien, 2, Syracuse, Italy
European Economic and Social Committee,
Asylum and migration, Employment and social rights,
Applications for international protection continue to increase, with around 587000 asylum ones in the EU, after the peak of 1.3 million applicants in 2015. Alongside, figures, stories and pictures of thousands of dead migrants and asylum seekers in the Mediterranean waters are still fresh in memory.
For those who arrive and file the application, around a third are approved, but the ordeal rarely stops there. Complicated procedures for labour market access, housing shortages, and adaptation and integration problems accompany both migrants and refugees. Added to this, exploitation at work is often common for undocumented migrants. Racism and xenophobia have grown in the last years, promoted by the far-right but tolerated with varying degrees of willingness by a much broader spectrum of political parties. Meanwhile, the European Commission has announced a New Pact on Migration and Asylum which shall reform the Common European Asylum Policy.
Facing this challenge stands organised civil society and Trade Unions, particularly near the so-called 'hotspots' of arrival, at the Southern and Eastern EU borders. For this purpose, the Workers' Group travels to Sicily, one of the major arrival points of Italy, to discuss with local and regional actors, Trade Unionists and civil society members the most pressing issues and challenges, in terms of fundamental rights, integration, but also labour exploitation, mafia involvement, and other illegal practices.
---
Het Europees Economisch en Sociaal Comité (EESC) werd in 1957 door het Verdrag tot oprichting van de Europese Economische Gemeenschap i opgericht als raadgevend orgaan om de belangen van de verschillende economische en maatschappelijke organisaties in de Europese Unie te vertegenwoordigen. Het EESC wordt voorgezeten door Luca Jahier.