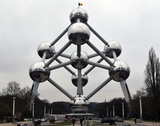 © Kevin Bergenhenegouwen
CANCELLED / The 8th meeting of the EU Domestic Advisory Group under the EU-Ukraine DCFTA will take place on 1 April 2020 in Brussels. Please click on the programme tab to consult the topics on the agenda.
---
Het Europees Economisch en Sociaal Comité (EESC) werd in 1957 door het Verdrag tot oprichting van de Europese Economische Gemeenschap i opgericht als raadgevend orgaan om de belangen van de verschillende economische en maatschappelijke organisaties in de Europese Unie te vertegenwoordigen. Het EESC wordt voorgezeten door Luca Jahier.