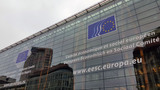 © Kevin Bergenhenegouwen
Page Content
​​​​The Committee of the Regions (CoR) is preparing an opinion on "The Future of EU Clean Air policy in the framework of the zero-pollution ambition".
The Zero pollution ambition is one of the main environmental priorities of the European Green Deal and includes the proposal of a Zero pollution action plan for water, air and soil, scheduled for 2021.
The rapporteur Mr János Ádám Karácsony (HU/EPP) Member of Tahitótfalu Council and member of the CoR Commission for Environment, Climate Change and Energy (ENVE) wishes to discuss these topics and exchange best practices with relevant stakeholders on:
Monday 2 March 2020 from 15.00 to 17.00
(Registration will start at 14.30)
in the Committee of the Regions building
(Rue Belliard 101, B-1040 Brussels)
Room JDE 51​
The rapporteur strives for the highest possible quality input and widest range of different views for his opinion and we believe your expertise can contribute to achieving this objective. In case you cannot participate in the meeting, you can share your views in a position paper related to the topic, and send it before the meeting to enve@cor.europa.eu.​
The ENVE Commission has organized an exchange of views on this opinion during its meeting of 27 February 2020 on the basis of the Working Document prepared by the rapporteur.
You can find the working document at the following link in al EU languages:
https://cor.europa.eu/EN/our-work/Pages/OpinionTimeline.aspx?opId=CDR-540-2020
The rapporteur is now preparing a draft opinion that is scheduled for discussion and adoption in the ENVE meeting of 6 April 2020. Final discussion and approval of the opinion is foreseen for the plenary of 1-2 July 2020.
Please register to the stakeholder consultation at the following link​.
Contact:
Contact Person: ENVE Secretariat
Email: enve@cor.europa.eu
---
Contents
Dit orgaan is de spreekbuis voor lokale en regionale overheden binnen de Europese Unie. De Raad van de Europese Unie i en de Europese Commissie i zijn in bepaalde gevallen verplicht advies te vragen aan het Comité van de Regio's (CvdR), voordat zij een besluit kunnen nemen.