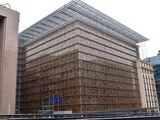 © Kevin Bergenhenegouwen
Main results
On 20 and 21 February, EU heads of state or government met in Brussels to discuss the EU's long-term budget for 2021-2027. Following intense negotiations it became evident that it was not possible to reach an agreement and more time was needed.
"We have worked very hard to try to reconcile the different concerns, the different interests, the different opinions on the table. But we need more time."
Charles Michel, President of the European Council
Some of the main issues at stake in the discussions are:
-

volumes of the main policy areas

-

financing, including revenues (own resources) and corrections

-

conditionalities and incentives
President Charles Michel will consult EU leaders on how to take things forward.
Declaration on the situation in Syria
In response to the unfolding tragedy in Idlib, Syria, the European Council has issued a declaration, calling on all actors to cease hostilities immediately.
The renewed military offensive in Idlib by the Syrian regime and its backers, causing enormous human suffering, is unacceptable. (…) The EU urges all parties to the conflict to fully respect their obligations under international humanitarian law and international human rights law and to allow unimpeded and direct humanitarian access to all those in need.
Declaration of the European Council on the situation in Idlib
---
De Europese Raad bestaat uit de regeringsleiders of staatshoofden van de 27 lidstaten van de Europese Unie i, de vaste voorzitter i en de voorzitter van de Europese Commissie i. De Hoge Vertegenwoordiger voor het gemeenschappelijk buitenlands en veiligheidsbeleid i woont de bijeenkomsten van dit orgaan ook bij. Alleen de regeringsleiders of staatshoofden hebben stemrecht tijdens de vergaderingen. De Europese Raad heeft geen wetgevingstaak, maar stelt wel de politieke richting van de EU vast.