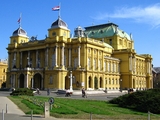 The European Economic and Social Committee (EESC) is organising a public hearing on "Challenges and prospects for the deinstitutionalisation process in Croatia " on 31 March 2020, in the context of a fact finding mission of the EESC's Study Group on Disability Rights.
During the hearing, we will listen to representatives from public authorities and civil society to find out how the deinstitutionalisation process is advancing in Croatia.
Your participation and input are most welcome!
---
Het Europees Economisch en Sociaal Comité (EESC) werd in 1957 door het Verdrag tot oprichting van de Europese Economische Gemeenschap i opgericht als raadgevend orgaan om de belangen van de verschillende economische en maatschappelijke organisaties in de Europese Unie te vertegenwoordigen. Het EESC wordt voorgezeten door Luca Jahier.