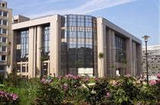 datum
11 juli 2016 10:00
plaats
Brussel, België
adres
Wetstraat 175 [kaart]
locatie
Justus Lipsius 

i

zaal
Room 20.2
organisatie
Comité voor de civiele aspecten van crisisbeheersing (Civcom)
Council of the European Union
General Secretariat
Brussels, 8 July 2016 CM 3286/16
CIVCOM
CFSP/PESC
COMMUNICATION
NOTICE OF MEETING AND PROVISIONAL AGENDA

Contact:

Tel./Fax:

secretariat.civcom@consilium.europa.eu +32.2 281 7786 / +32 2 281 7821

Subject:

COMMITTEE FOR CIVILIAN ASPECTS OF CRISIS MANAGEMENT Date: Monday, 11 July 2016

Time: 15:00

Venue: COUNCIL

JUSTUS LIPSIUS BUILDING Rue de la Loi 175, 1048 BRUSSELS
1.

Adoption of the provisional agenda
At 15:00, the members of CivCom will receive a presentation by Mark Downes, Assistant Director with DCAF and Head of ISSAT, on the constraints and challenges of international support to police institutions in countries in crisis.
NB: Council documents are available in the Delegates Portal.
NB: Delegates requiring day badges to attend meetings should consult document 14387/1/12
REV 1 on how to obtain them.
CM 3286/16
EN
---