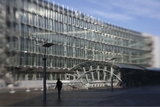 (c) Atelier de Genval- Cerau - M. Van Campenhout, - Tractebel dev s.a. et ingénieurs associés
05-12-2016 - Hearing on Greek labour market reform
EMPL 16-01-2017 - 09:31
On 5 December Mr Pedro Martins, Professor from the London School of Business and Management in London took part at the hearing as a member of the "Expert Group for the review of the Greek labour market institutions" to present their recommendations adopted on 27 September 2016.
The expert group consists of eight independent experts, its composition was jointly agreed with the Greek government and the institutions and was set-up in April 2016. It was tasked with helping Greece and the international institutions (European Commission, European Central Bank, European Stability Mechanism, International Monetary Fund) to reach an agreement on labour reforms.
Location : JAN 4Q1
---
Deze parlementaire commissie i houdt zich onder meer bezig met het werkgelegenheidsbeleid en sociaal beleid (waaronder arbeidsomstandigheden en sociale zekerheid), het beleid voor beroepsopleidingen en het vrije verkeer van werknemers.