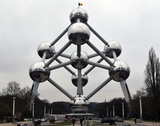 © Kevin Bergenhenegouwen
S&D Group Seminar: Jihadism after the Caliphate - Evaluating counterterrorism in Europe.
Please register here by Thursday 31 May 2018 at 18h00.
For more information, please contact: s-d.Conf-Integration@ep.europa.eu
Hosted by Tanja Fajon MEP, Chair of the S&D Working Group on extremism, and Wajid Khan MEP, S&D Special Representative for relations with Muslim communities.
MEPs INVOLVED
+32(0)2 28 45493
+33(0)3 88 1 75493
+32(0)2 28 45437
+33(0)3 88 1 75437
---
In het Europees Parlement i bestaat sinds juli 2009 de Fractie van de Progressieve Alliantie van Socialisten en Democraten (S&D). De fractie is ontstaan na een overeenkomst tussen de Partij van de Europese Sociaal-Democraten i (PES), die verschillende sociaaldemocratische partijen uit Europa verenigt, en de Italiaanse Democratische Partij. De PvdA i is bij de S&D aangesloten, evenals bijvoorbeeld de Duitse SPD en de Spaanse PSOE. De Spaanse Iratxe García Pérez is voorzitter van de S&D fractie.
De S&D streeft naar een Europa dat gelijke kansen biedt voor alle burgers, en naar een sociaal Europa.