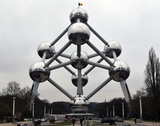 © Kevin Bergenhenegouwen
Coinciding with the 40th anniversary of China's opening up, the 8th edition of Friend's of Europe's Europe-China Forum will be held on 28 November.
Participants and high-level European and Chinese speakers will look at Europe-China relations in the context of the myriad opportunities and challenges to come - opportunities to move ever closer in their cooperation on issues like the energy transition and more inclusive connectivity projects, as well as ways to overcome challenges posed by trade and investment. As they seek to reach common ground, leaders of both have tough questions to answer:
-

After 40 years of reform, are China's markets an open or shut case for European exporters?

-

Can there be real synergies between the BRI and the EU's connectivity blueprint?

-

What can China and Europe do jointly to encourage the development of green tech and clean energy?
The Forum will be preceded on 27 November by the invitation-only Policy & Practice Roundtable.
The Europe-China Forum and Policy & Practice Roundtable are joint initiatives of Friends of Europe and the Mission of the People's Republic of China to the EU, aimed at promoting greater Europe-China engagement and cooperation, and bring together policymakers, business representatives and leading academics from across Europe and China to discuss issues of shared interest and address pressing common challenges.
Interested in learning more?
Friends of Europe discussion paper "My ASEM Wishlist: how Asia and Europe should really be working together"
"EU-Asia trade - the bright future ahead" by Jean-Luc Demarty
"It's time for a united Europe to stand up to China" by Neena Gill
"The new logic of China's global influence" by Chunrong Liu
"As Drumpf embarks on Asia trip, it's Europe that is really pivoting to Asia" by Shada Islam
---