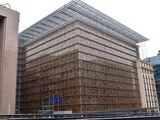 © Kevin Bergenhenegouwen
datum
23 oktober 2019
plaats
Brussel, België
locatie
Europa 

i

organisatie
Groep belastingvraagstukken
li

Council of the European Union

Dl General Secretariat

Brussels, 14 October 2019

CM 4334/19

FISC

ECOFIN

UD

COMMUNICATION

NOTICE OF MEETING AND PROVISIONAL AGENDA

Contact:

ecomp2b.taxpolicy ©consilium.europa.eu

Tel/Fax:

+32.2-281.4796/2986

Subject:

Working Party on Tax Questions (Indirect Taxation - VAT)

Date:

23 October 2019

Time:

10.00

Venue:

EUROPA BUILDING

Rue de la Loi 155, 1048 BRUSSELS
1.

European Court of Auditors' Special Report No 12/2019: "E-commerce: many of the challenges of collecting VAT and customs duties remain to be resolved" (OJ C 241, 17.07.2019, p. 8) - Draft Council conclusions
2.

Proposal for a COUNCIL DIRECTIVE amending Directive 2006/112/EC on the common system of value added tax as regards the special scheme for small enterprises
3.

Transmission and exchange of VAT relevant payment data to fight e-commerce VAT fraud
Proposal for a COUNCIL DIRECTIVE amending Directive 2006/112/EC as regards introducing certain requirements for payment service providers.
Proposal for a COUNCIL REGULATION amending Regulation (EU) No 904/2010 as regards measures to strengthen administrative cooperation in order to combat VAT fraud
CM 4334/19
1
EN
Council documents are available on Delegates Portal. Room attendants will provide copies on request at the earliest opportunity.
---