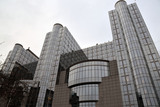 © Kevin Bergenhenegouwen
The ECON Committee is organising a Banking Union Workshop on an EU liquidation regime for banks, which will be held on 4 December 2019 (14:30 - 16:30) in Brussels, room ASP5E2.
Two studies will be presented:
•

Nicolas Véron and Anna Gelpern, 'An effective Regime for non-viable banks: US experience and considerations for EU reform', July 2019, a paper commissioned by the ECON Committee

•

A study on the harmonisation of insolvency law conducted in the context of a Pilot Project on the Banking Union proposed by the European Parliament (to be published in the coming weeks by the Commission)
That workshop would also feature representatives from EU institutions and authorities to discuss possible ways forward.
The event will be web streamed. For further information: egov@ep.europa.eu
Location: Brussels, Altiero Spinelli building, room ASP 5E2
Last updated: 22-11-2019
---
Deze parlementaire commissie i houdt zich onder meer bezig met het economisch en monetair beleid van de Unie, vrij verkeer van kapitaal, mededinging en belastingen.