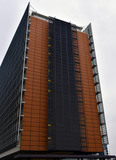 © Kevin Bergenhenegouwen
Program:
12:01:04 ANNOUNCEMENTS - Agenda:
12:04:33 ANNOUNCEMENT - Trade - EU and 16 WTO members agree to work together on an interim appeal arbitration arrangement:
12:05:48 HUMANITARIAN AID - EU steps up support in Nigeria for conflict victims: - announcement
12:07:03 MEDIA - Signature of the Agreement on the Withdrawal of the UK: - Q&A
12:11:27 FOREIGN AFFAIRS - Venezuela: - Q&A
12:21:39 RULE OF LAW - Poland: - Q&A
12:27:06 RULE OF LAW - Hungary: - Q&A
12:28:40 RULE OF LAW - Poland: - follow up Q&A
12:30:29 RULE OF LAW - Hungary: - follow up Q&A
12:36:13 COMPETITION - Outcome of the meeting with Isabelle de Silva, President of the French Competition Authority: - Q&A
12:37:31 MIGRATION - Migrant smuggling: - Q&A
12:38:57 TRADE - EU/US Relations: - Q&A
12:44:44 FOREIGN AFFAIRS - Myanmar: - Q&A
12:51:28 Recorded cutaways
12:51:59 Exterior views of the European Commission
---
Contents
Deze instelling van de Europese Unie kan worden beschouwd als het 'dagelijks bestuur' van de EU. De leden van de Europese Commissie worden 'Eurocommissarissen i' genoemd. Elke Eurocommissaris is verantwoordelijk voor één of meerdere beleidsgebieden. Momenteel zijn er 27 Eurocommissarissen, voor elke lidstaat één. Samen vormen zij het college van Eurocommissarissen. De Eurocommissarissen moeten het belang van de Europese Unie als geheel behartigen, niet dat van hun eigen land.
De Europese Commissie mag als enige EU-instelling wetsvoorstellen indienen; zij heeft het zogenaamde recht van initatief. Daarnaast controleert de Commissie of de Europese wetgeving juist wordt toegepast in de lidstaten, onderhandelt zij in internationale organisaties als de Wereldhandelsorganisatie (WTO) i over de handel van de Unie met het 'buitenland' en is zij verantwoordelijk voor het beheer van de Europese begroting van ongeveer 140 miljard euro per jaar.