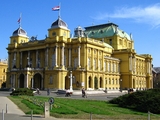 Hotel Westin Zagreb, Ulica Izidora Kršnjavog 1, Zagreb
Presidency of the Council of the EU,
Consumer affairs and public health, International aid, development and cooperation,
The overall objective of the EU-CELAC High Level Meeting is to contribute to and strengthen the regional political dialogue established between 33 countries and the region. The meeting is organised every two years with the aim of opening specific thematic discussions and presenting initiatives, as well as developing common mechanisms for coordination and cooperation between countries on the global drug problem. CELAC and the EU are continually enhancing their bi-regional partnership, and their relationships are based on bi-annual meetings, regular meetings of senior officials and specific thematic dialogues and initiatives, including a mechanism for co-operation and coordination in the field of drugs.
---
In deze instelling van de Europese Unie (kortweg 'de Raad van Ministers' of nog korter 'de Raad' genoemd) zijn de regeringen van de 27 lidstaten i van de EU vertegenwoordigd. De Raad oefent samen met het Europees Parlement i de wetgevings- en begrotingstaak uit. Dit houdt in dat de Raad zijn goedkeuring moet geven aan elk wetsvoorstel van de Europese Commissie i en aan elke voorgestelde EU-begroting. Nationale regeringen kunnen dus via de Raad invloed uitoefenen in de EU. De Raad neemt ook beslissingen over het buitenlands- en veiligheidsbeleid.