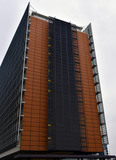 © Kevin Bergenhenegouwen
The Commission will adopt its annual progress reports under the cooperation and verification mechanism for Bulgaria and Romania. This will be the fifth annual report since the mechanism was established.
The co-operation and verification mechanism (CVM) was established on the accession of Bulgaria and Romania to the EU to help both countries put in place an impartial, independent and effective judicial and administrative system similar to those of other Member States and capable of meeting the obligations of EU membership. This included the capacity to fight corruption and in the case of Bulgaria, the fight against organised crime. Progress is assessed against the commitments made by the two countries which are set out in four benchmarks for Romania and six benchmarks for Bulgaria.
IP, MEMOs and Reports will be available on the day
11.00: Technical briefing on-the-record in the Berlaymont press room
European Commission's website on the cooperation and verification mechanism for Bulgaria and Romania:
http://ec.europa.eu/dgs/secretariat_general/cvm/index_en.htm
Pia Ahrenkilde +32 2 295 3070 pia.ahrenkilde-hansen@ec.europa.eu
Mark Gray +32 2 298 8644 mark-stephen.gray@ec.europa.eu
---
Deze instelling van de Europese Unie kan worden beschouwd als het 'dagelijks bestuur' van de EU. De leden van de Europese Commissie worden 'Eurocommissarissen i' genoemd. Elke Eurocommissaris is verantwoordelijk voor één of meerdere beleidsgebieden. Momenteel zijn er 27 Eurocommissarissen, voor elke lidstaat één. Samen vormen zij het college van Eurocommissarissen. De Eurocommissarissen moeten het belang van de Europese Unie als geheel behartigen, niet dat van hun eigen land.
De Europese Commissie mag als enige EU-instelling wetsvoorstellen indienen; zij heeft het zogenaamde recht van initatief. Daarnaast controleert de Commissie of de Europese wetgeving juist wordt toegepast in de lidstaten, onderhandelt zij in internationale organisaties als de Wereldhandelsorganisatie (WTO) i over de handel van de Unie met het 'buitenland' en is zij verantwoordelijk voor het beheer van de Europese begroting van ongeveer 140 miljard euro per jaar.