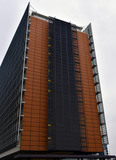 © Kevin Bergenhenegouwen
This page describes past events and is no longer updated.
The second EU - Central America Civil Society Dialogue Forum on trade and sustainable development will take place in Brussels on 29th May.
An internal coordination session will be followed by a presentation on the main outcomes of the Board on Trade and Sustainable Development, a government-to-government body under the Agreement, which will have concluded its meeting the previous day. The session will then cover proposals or statements from participants and questions/ discussion. Read the programme
Organisations interested in EU - Central America trade and sustainable development in particular with respect to business, labour rights or environment are invited to participate in the meeting. Note that space is limited and prior registration to this event is necessary. Each participant is responsible for his or her travel costs. English-Spanish interpretation will be available.
A 'Seminar on fair trade and sustainability in agricultural value chains in the context of the EU-Central America trade agreement ' will also be held at the same location in the afternoon.
Both events will be webcast live, from 11 am and will be available to view afterwards.
Context
The trade-related provisions of the EU - Central America Association Agreement entered into force in 2013. The trade and sustainable development chapter contains, among other, provisions on compliance with international environment and labour agreements and promotes positive synergies between trade, environment and decent work. The provisions also provide for a Civil Society Dialogue Forum to be held, with the aim of providing views on implementation of the provisions of the chapter and to facilitate cooperation. A first meeting of the Civil Society Dialogue Forum was held in Managua, Nicaragua in November 2014.
Practical details
When: 29 May 2015, between 09.00 and 13.00 (Forum); 14.30 - 17.30 (seminar)
Where: Berlaymont Building, Schuman Room, Rue de la Loi 200, 1040 Brussels (metro
Schuman)
To register: send an email to: TRADE-SD-CIVIL-SOCIETY@ec.europa.eu with your name, organisation and nationality. Deadline for registration: Tuesday 27th May.
---
Contents
Deze instelling van de Europese Unie kan worden beschouwd als het 'dagelijks bestuur' van de EU. De leden van de Europese Commissie worden 'Eurocommissarissen i' genoemd. Elke Eurocommissaris is verantwoordelijk voor één of meerdere beleidsgebieden. Momenteel zijn er 27 Eurocommissarissen, voor elke lidstaat één. Samen vormen zij het college van Eurocommissarissen. De Eurocommissarissen moeten het belang van de Europese Unie als geheel behartigen, niet dat van hun eigen land.
De Europese Commissie mag als enige EU-instelling wetsvoorstellen indienen; zij heeft het zogenaamde recht van initatief. Daarnaast controleert de Commissie of de Europese wetgeving juist wordt toegepast in de lidstaten, onderhandelt zij in internationale organisaties als de Wereldhandelsorganisatie (WTO) i over de handel van de Unie met het 'buitenland' en is zij verantwoordelijk voor het beheer van de Europese begroting van ongeveer 140 miljard euro per jaar.