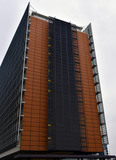 © Kevin Bergenhenegouwen
Gerben-Jan Gerbrandy will speak at the workshop 'Preparing the transition: research and innovation for post-2030 decarbonisation pathways'
Gerben-Jan Gerbrandy participates in the workshop 'Preparing the transition: research and innovation for post-2030 decarbonisation pathways'.
Gerbrandy will speak during panel 1, 'Non-technological barriers and challenges for achieving a low carbon economy' from 11:00 AM to 12:40 PM.
Draft Agenda
09:00-09:30

Welcome coffee

09:30-09:50

WELCOME - OPENING

Kurt Vandenberghe, Director, Climate Action and Resource Efficiency, DG Research & Innovation

RTD's long-term decarbonisation initiative

09:50-10:10

PRESENTATION

Willem Van Ierland, Acting Head of Unit, Strategy and Economic Assessment, DG for Climate Action

Climate Policy for 2050 after COP21

10:10-10:30

PRESENTATION

Martin Porter, Executive Director, Industrial Innovation for Competitiveness (i24c)

Industrial Innovation for competitiveness and sustainability

10:30-10:50

PRESENTATION

Peter White, Chief Operating Officer, World Business Council for Sustainable Development (WBCSD)

Decarbonisation pathways: what role for the global business community

10:50-11:00

Coffee break
11:00-12:40

PANEL SESSION 1

Non-technological barriers and challenges for achieving a low carbon economy

(e.g. finance, behavioural, regulatory, institutional, social aspects)

Sami Andoura, Leader of the Sustainable Development Team, European Political Strategy Centre (EPSC)

Béla Galgóczi, Senior Researcher, Unit for Economic, Employment and Social Policies, European Trade Union Institute (ETUI)

Gerben-Jan Gerbrandy, Member of the European Parliament

Robert Jan Jeekel, Head of EU Institutional Affairs, ArcelorMittal

Steffen Kallbekken, Research Director, Center for International Climate and Environmental Research, Oslo (CICERO)

Imke Luebbeke, Head of EU Climate and Energy Policy, WWF European Policy Office

Nick Robins, Co-Director, Inquiry into the Design of a Sustainable Financial System at UNEP

MODERATOR: Sandrine Dixson-Declève, Director, The Prince of Wales's Corporate Leaders Group (CLG), University of Cambridge Institute for Sustainability Leadership, EU Office & Policy Platforms

12:40-13:40

Lunch break

13:40-14:00

PRESENTATION

Måns Nilsson, Deputy Director and Research Director, Stockholm Environment Institute (SEI)

The New Climate Economy

14:00-15:40

PANEL SESSION 2

The process of co-designing credible, cost-effective and socially acceptable low carbon transition scenarios: factors and measures of success

Patrick Criqui, Directeur de recherche, Centre national de la recherche scientifique (CNRS)

Christian Egenhofer, Senior Fellow and Head of the Energy, Climate and Environment Programme Centre for European Policy Studies (CEPS)

Bo Asmus Kjeldgaard, CEO & Founder, Greenovation Holding Aps, Former Mayor, City of Copenhagen

Elmar Kriegler, Vice Chair of the research domain Sustainable Solutions, Potsdam Institute for Climate Impact Research (PIK)

Gail Whiteman, Professor, Rotterdam School of Management

Mirjam Wolfrum, Director Policy & Reporting Europe at CDP gGmbH - Global environmental reporting system

MODERATOR: Heleen de Coninck, Associate Professor, Faculty of Science, Radboud University

15:40-16:00

CONCLUDING REMARKS

Hans Bruyninckx, Executive Director, European Environmental Agency (EEA)
---
De D66 i-delegatie in het Europees Parlement i telt twee leden. De delegatie maakt deel uit van de fractie Renew Europe i, waarin ook de VVD-delegatie i vertegenwoordigd is. Delegatieleider van D66 in het Europees Parlement is Sophie in 't Veld i.