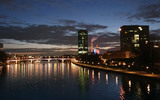 © Anton Bussemaker
Boštjan Jazbec is giving a keynote speech at the 19th Handelsblatt European Banking Regulation Annual Conference. His speech will deal with recent development in technical aspects of bank resolution, such as MREL and TLAC ratios. He will then take part in a panel debating the regulatory outlook and future topics for the banking industry. The conference is organised by Handelsblatt and will take place in Frankfurt.
---
Dit agentschap i is belast met de uitvoering van het gemeenschappelijk afwikkelingsmechanisme binnen de Europese bankenunie i. Het gemeenschappelijk afwikkelingsmechanisme moet ervoor zorgen dat als een bank in ernstige moeilijkheden komt te verkeren, zij efficiënt kan worden gesteund en geherstructureerd en/of ontmanteld, waarbij de kosten voor de belastingbetaler en de reële economie tot een minimum beperkt blijven.
De Gemeenschappelijke afwikkelingsraad neemt besluiten over de afwikkeling en ziet toe op de uitvoering daarvan door de nationale afwikkelingsautoriteiten.