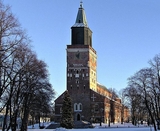 Agenda of the External CoR Bureau meeting in Turku - 13 September 2019
Brussels, 30 August 2019
192nd MEETING OF THE EUROPEAN COMMITTEE OF THE REGIONS BUREAU
DRAFT AGENDA
Logomo Conference Centre
Köydenpunojankatu 14. Turku 20100, Finland
Logomo Hall
_____________
-

Friday 13 September 2019, from 8.45 a.m. to 12.30 p.m. -
Title

Document No

8.45-9.45 a.m.

-

Adoption of the agenda

(for decision)

COR-2019-02510-00-02-CONVPOJ-TRA

-

Minutes of the 191st Bureau meeting, held in Brussels on 25 June 2019

(for decision)

COR-2019-01159-00-00-PV-TRA

COR-2019-01159-00-00-PV-REF

COR-2019-01159-01-01-PV-REF

-

Proposal to draft a resolution on the Developments in the Interinstitutional negotiations on the Multiannual Financial Framework for 2021-2027

(for decision)

COR-2019-02510-02-01-NB-TRA

-

Welcome addresses by Minna Arve, Mayor of the city of Turku

-

Priorities of Finland's Presidency of the Council of the European Union Statements by:

-

Karl-Heinz Lambertz, President of the European Committee of the Regions

-

Katri Kulmuni, Minister for Economic Affairs of the Republic of Finland

COR-2019-02510-00-02-NB-TRA
9.45-11 a.m.
-

Skills for the future through education and knowledge creation - the local and regional perspective

COR-2019-02510-01-00-NB-TRA

(for debate)
First session - Skills for the future: New ways of teaching and learning
The ability of cities and regions to take advantage of global trends such as digitalisation by seizing opportunities and transforming challenges into assets rests on their capacity to make the right choices and implement them and to provide access to technology and equip citizens with adequate education and skills. All levels of governance (EU, national, regional/local) should work together to provide the skills and knowledge base to successfully manage these changes.
Quality education and access to up-skilling and re-skilling paths should be made available for all, both for those living in regions striving for excellence and those living in a more disadvantaged districts or remote rural areas.
To manage the transition towards the future, it is crucial to refine strategies and define specific development paths.
This session will allow CoR members to exchange views and discuss ideas with experts, and to learn from implemented actions and good practice at local and regional level.
Moderator: Anna Sorainen, journalist, CEO of Ground Communications
Debate with:
-

Csaba Borboly (RO/EPP), CoR rapporteur for the opinion on STE(A)M education
-

Julie Fionda, Deputy Head of Unit "Skills and Qualifications", DG Employment, Social Affairs and Inclusion, European Commission
-

Helena Mustikainen, project director, Lifelong learning, the Finnish Innovation Fund Sitra
-

Alessandro Brolpito, senior specialist in Digital Skills and Learning, European Training Foundation
Case study: the STE@M project, presented by Matti Mäkelä, head of the Project Management Office , Education division, City of Turku
Open discussion and exchange of best practices with members
11-11.15 a.m. Coffee break
11.15 a.m. - 12.30 p.m.
Second session - Next Challenge: the impact of Artificial Intelligence on education and knowledge creation
The use of Artificial Intelligence1 has also the potential to change education and where students learn, who teaches them, and how they acquire basic skills, making the educational experience more efficient and engaging for both teachers and students. Although quality education will continue to require active engagement by human teachers, Artificial Intelligence promises to enhance education at all levels, especially by providing personalisation at scale.
Artificial Intelligence will increasingly blur the line between formal, classroom education and self-paced, individual learning. As Artificial Intelligence scales up, it will routinise old institutional structures and practices that may not be relevant for the future. Policy will be needed to orient development in Artificial Intelligence towards socially useful directions that address the challenges, opportunities, and needs of the future.
Local and regional authorities should become key partners in this change. This session will offer the opportunity to discuss the opportunities and challenges of this emerging technology for teaching and learning.
Moderator: Anna Sorainen, journalist, CEO of Ground Communications
Debate with:
-

Jan Trei (EE/EPP), CoR rapporteur for the opinion on Artificial Intelligence for Europe
-

Dr Riina Vuorikari, senior researcher, Joint Research Centre, European Commission
-

Dirk Van Damme, head of Innovation and Measuring Progress Division -OECD
Case study: One Sea - autonomous maritime ecosystem, presented by Jukka Merenluoto, Ecosystem Lead, Turku
Open discussion and exchange of best practices with members
12.30 p.m.
Closing remarks by Markku Markkula, first vice-president of the European Committee of the Regions.
-

Date of the next meeting
_____________
1Broadly defined, artificial intelligence (AI) is software that enhances and automates the knowledge-based work done by humans.
Definition as in JRC Report on Artificial intelligence - a European perspective: ­AI as a generic term that refers to any machine or algorithm that is capable of observing its environment, learning, and based on the knowledge and experience gained, take intelligent actions or propose decisions.
COR-2019-02510-00-02-CONVPOJ-TRA (EN) 2/2
---
Contents
Dit orgaan is de spreekbuis voor lokale en regionale overheden binnen de Europese Unie. De Raad van de Europese Unie i en de Europese Commissie i zijn in bepaalde gevallen verplicht advies te vragen aan het Comité van de Regio's (CvdR), voordat zij een besluit kunnen nemen.