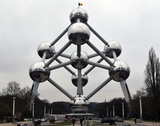 © Kevin Bergenhenegouwen
European Committee of the Regions, Other bodies and agencies,
Business, Economy and the euro, Transport and travel,
The European Committee of the Regions (CoR), the International Association of Public Transport (UITP) and the European Rail Supply Industry Association (UNIFE) are organising this conference.
The objective of the conference is to address the challenges and opportunities that are linked to urbanisation like emissions and congestion. Urban and regional rail projects, at EU, national and regional level could help to address these problems and bring significant economic, environmental and social benefits.
In the context of ongoing discussions regarding the next MFF, this conference will be a great occasion to discuss how the EU will continue to boost investment for urban rail projects, be it through funding from its own funds (Structural Fund/Connecting Europe Facility) or alternative financing schemes.
Organiser
---
Contents
Dit orgaan is de spreekbuis voor lokale en regionale overheden binnen de Europese Unie. De Raad van de Europese Unie i en de Europese Commissie i zijn in bepaalde gevallen verplicht advies te vragen aan het Comité van de Regio's (CvdR), voordat zij een besluit kunnen nemen.