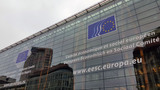 © Kevin Bergenhenegouwen
CoR (room JDE53), Brussels, Belgium
European Committee of the Regions,
EU regional and urban development,
A macro-regional strategy for the Carpathian region could facilitate the initiation of cross-border activities in relation to economic, cultural, educational, tourist, and environmental cooperation in this mountainous area.
The European Committee of the Regions (CoR) has decided to prepare an own-initiative opinion to facilitate this bottom-up initiative to establish this fifth EU Macro-regional strategy and has appointed Władysław Ortyl (ECR/PL), President of the Podkarpackie Region, as rapporteur.
The rapporteur would like to meet and discuss with representatives of local and regional associations and other stakeholders in order to shape this forthcoming CoR opinion.
---
Contents
Dit orgaan is de spreekbuis voor lokale en regionale overheden binnen de Europese Unie. De Raad van de Europese Unie i en de Europese Commissie i zijn in bepaalde gevallen verplicht advies te vragen aan het Comité van de Regio's (CvdR), voordat zij een besluit kunnen nemen.