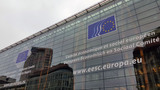 © Kevin Bergenhenegouwen
Page Content
​Smart, in collaboration with Saw-B and Febecoop, is pleased to invite you to the final day of the project "Platform Coop Brussels".
With the support of the Brussels Capital Region, the project aims to stimulate the emergence of a cooperative alternative within the collaborative economy in Brussels. Since the movement faces local and European challenges alike, both levels will be addressed. During the conference cooperative platform entrepreneurs, researchers, supporting structures and institutional representatives will exchange views. Three expert panels will discuss three specific challenges faced by cooperative platforms: economical models and financing, labour and governance, as well as local and sustainable development."
Contact:
Contact Person: Lieza Dessein
Organizer: Platform Coop Brussels
Email: lieza.dessein@smart.coop
---
Contents
Dit orgaan is de spreekbuis voor lokale en regionale overheden binnen de Europese Unie. De Raad van de Europese Unie i en de Europese Commissie i zijn in bepaalde gevallen verplicht advies te vragen aan het Comité van de Regio's (CvdR), voordat zij een besluit kunnen nemen.