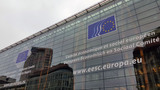 © Kevin Bergenhenegouwen
CoR (room JDE52), Brussels, Belgium
European Committee of the Regions,
Business, Energy, environment and climate, EU regional and urban development,
Forest-based businesses contribute as much as 7% to economic growth. The sector employs over 3.5 million people across the EU. It is the EU's 3rd largest employer, just after the metal and food industries.
In rural areas, in particular, forests are a key resource for improving quality of life and job creation and thereby keeping our rural communities alive and thriving. Regional cooperation in the EU is essential to facilitate the exchange of skills and bolster competitiveness of our regions.
The 1st part of this conference of the European Committee of the Regions (CoR) will look into challenges and issues linked to innovation in the forest sector as well as tools available at EU level, while the 2nd part will focus on showcasing some regional best practice examples.
---
Contents
Dit orgaan is de spreekbuis voor lokale en regionale overheden binnen de Europese Unie. De Raad van de Europese Unie i en de Europese Commissie i zijn in bepaalde gevallen verplicht advies te vragen aan het Comité van de Regio's (CvdR), voordat zij een besluit kunnen nemen.