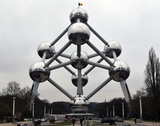 © Kevin Bergenhenegouwen
Menu
07/11/2019 - 08/11/2019 Brussels
Contents
The 18th FEAD Network Meeting will take place on the 7 and 8 November 2019 in Brussels, Belgium.
© Shutterstock
The focus of the meeting is 'Monitoring and Evaluation in FEAD', exploring the challenges faced, showcasing good practices implemented by stakeholders in different countries, and empowering delegates to reflect on how they can set up the most relevant and effective M&E systems for their FEAD-funded interventions.
If you would like to register your interest for this upcoming event, please send us an email. Please note that registering your interest does not guarantee an invitation.
You can also download the 18th FEAD Network Meeting agenda for a full list of the day's activities.
---
Dit directoraat-generaal i heeft de taak om bij te dragen aan de ontwikkeling van een modern, innovatief en duurzaam Europees sociaal model met meer en betere banen in een gemeenschap gebaseerd op gelijke kansen.
Dit DG valt onder verantwoordelijkheid van de eurocommissaris voor Werkgelegenheid, sociale zaken en arbeidsmobiliteit i.