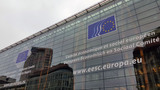 © Kevin Bergenhenegouwen
Page Content
​In the frame of The New Green Deal for Europe and the Farm to Fork Strategy, the event presents and discusses the role of freshwater aquaculture in food security and production in the EU.
The goal is to share experience on aquaculture innovations with stakeholders active in innovation-business interface, and to identify bottlenecks, opportunities and future possibilities that aquaculture offers for food production in the EU. The topics covered include added-value fish products, clean aquatic environments, selective breeding and genomics, and on circular bioeconomy.
The conference is complementing the freshwater aquaculture workshop organised under Romanian presidency in May 2019 in Brussels, and the meeting of The Friends of Freshwater Fisheries under the Finnish presidency in October 2019 in Helsinki.
Contact:
Contact Person: Mika Mustonen
Organizer: LUKE Natural Resources Institute Finland , Presidency of the Council of the EU
Email: mika.mustonen@luke.fi
---
Contents
Dit orgaan is de spreekbuis voor lokale en regionale overheden binnen de Europese Unie. De Raad van de Europese Unie i en de Europese Commissie i zijn in bepaalde gevallen verplicht advies te vragen aan het Comité van de Regio's (CvdR), voordat zij een besluit kunnen nemen.